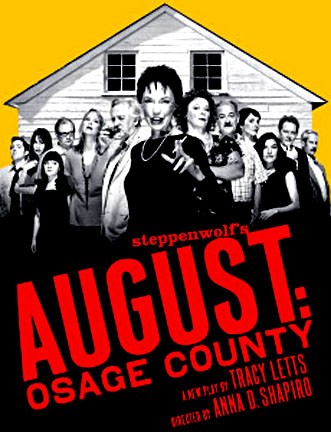 I was just thinking the other day about when the film version of Tracy Letts's Pulitzer Prize and Tony award winning play,
August: Osage County
was coming to the big screen. I feel like I saw that show on Broadway
ages
ago and they've been talking about a film version since 2010. Mainly, I like to think ahead for future Oscar nominations. The play has such great parts for women that whoever they cast to play Violet, the pill-addicted, acid-tongued matriarch would be assured of a Best Actress nom- if not a win. I knew that Meryl was in talks for the role and that the insanely miscast Julia Roberts was being considered for the eldest daughter, Barbara.
Well, last night brought
word
that The Weinstein Company is finally moving ahead with the project and plans to film this fall. Meryl and Julia are still attached to the roles. Someone named John Wells (apparently he directed the Ben Affleck movie,
Company Men
, which no one saw more of than the trailer. And directed episodes of 'Shameless' on Showtime. Gross) is directing a script adapted by Tracy Letts.
Is this the best we can do? We can't get a Mike Nichols or a David O. Russell to direct? I thought this was a hot property. I'm also disappointed by the casting so far. It just seems lazy. It seems that if a character calls for an actress over 60, Meryl Streep is the only person they call.
Of course
, Meryl will be great in the role. I'm not worried about that. But, she just doesn't seem like a natural fit for the part. It needs someone more wiry and abrasive, two words that don't come to mind when describing Meryl. I'm thinking Sissy Spacek or Jane Fonda. And Julia is too...Julia to play such a salt of the earth, put-upon, real person. It should be played by Amy Ryan or Laura Linney.
There's still a lot of roles still to be cast-the other two sisters and Violet's blowsy sister (a real Brenda Blythen-type) to just name a few. With two such big stars already on board, hopefully they won't be afraid of casting some relatively unknown actors. Or they should go the other way and only cast Oscar winners for every role. I love those prestige pics that attach the moniker, Academy Award winner, before the names of the cast. They've already started off so big might as well go over the top. But, one thing is for sure. Meryl is all but assured of winning that elusive third Oscar for this. Cause it sure isn't gonna happen with
Iron Lady
.