My roommate text me this morning asking why I was recording Sandy Bullock on the Today show. It's a good question seeing as we have
history
. But, it was for the Golden Globe nominations. And it worked this time! (Thanks for nothing TNT and SAGs) Thank god it did because there were some laughs to be had. And not like last year where the laughs came from the Best Comedy or Musical category. (Oh, it will never get old making fun of Angie and Johnny Depp being nominated for
The Tourist
.) The four random stars of (big) screen and (small) screen at first seemed like odd choices but I now want to write some sort of rom-com to star Rashida Jones in hipster glasses, Gerry Butler looking rugged, Sofia Vergara not being able to pronounce anything, and shameless promoter, and complete delight, Woody Harrelson. But, let's move on to the nominees:
BEST MOTION PICTURE – DRAMA
THE DESCENDANTS
Sofia Vergara Ad Hominem Enterprises; Fox Searchlight Pictures
THE HELPDreamWorks Pictures, Participant Media; Touchstone Pictures
HUGOParamount Pictures presents a GK Films Production; Paramount Pictures
THE IDES OF MARCH
Columbia Pictures, Cross Creek Pictures, Exclusive Media Group, Crystal City Entertainment; Sony Pictures Releasing
MONEYBALL
Columbia Pictures; Sony Pictures Releasing International
WAR HORSE
DreamWorks Pictures; Touchstone Pictures
I would just like to point out that I cut and paste this directly from The Golden Globe website. Notice something odd about the film company that made The Descendants? I wonder how long it will take them to correct that. One of the highlight's of the announcement was Woody leaning into the mic and announcing that his film Rampart opens January 27 and it somehow got left off the list. They have six nominations and the average The Ides of March gets a nod? Its looking like Extremely Loud and Incredibly Close is fading from awards potential. It hasn't gotten anything from any awards body. Its gonna have to have good word of mouth when it opens if its gonna get traction. Predicted Winner: War Horse
BEST PERFORMANCE BY AN ACTRESS IN A MOTION PICTURE – DRAMA
Glenn Close Albert Nobbs
Viola Davis The Help
Rooney Mara The Girl With the Dragon Tattoo
Meryl Streep The Iron Lady
Tilda Swinton We Need To Talk About Kevin
With Michelle Williams competing in Comedy or Musical it opened up the field to another actress vying for that fifth slot at Oscar. It's looking in more and more like it's gonna be Tilda. And Kiki is all but forgotten for
Melancholia
. They went with Rooney Mara here. I think it'll be a huge box office success, but I think this will be it for her. It's such a power house of big name dramatic ladies this season. It's really between Meryl and Viola. But...
Predicted Winner:
Meryl Streep
The Iron Lady
I hope she wears pearls.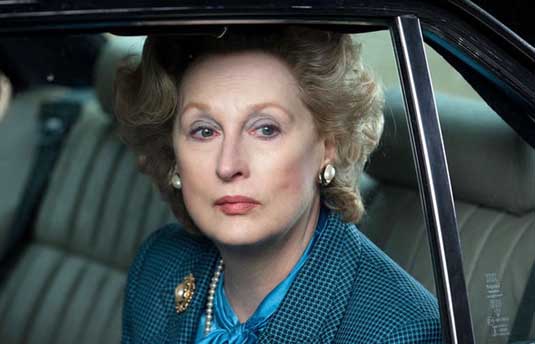 BEST PERFORMANCE BY AN ACTOR IN A MOTION PICTURE – DRAMA
George Clooney The Descandants
Leonardo DiCaprio J. Edgar
Michael Fassbender Shame
Ryan Gosling The Ides of March
Brad Pitt Moneyball
Movie stars and hot guys! I mean, what a talented group of actors. But, really this is a handsome group of fellows and they are, in fact, talented. When this was announced Woody asked if there was a name left off. It was a cute moment. Looks like he really wants to be recognized for Rampart. It seems more people like J.Edgar more than I thought. And I'm happy about Fassy's nom. And Gosling was nominated in drama and comedy. Is there anything he can't do? Predicted Winner: Brad Pitt Moneyball
I think this is the only promo pic for this movie
BEST MOTION PICTURE – COMEDY OR MUSICAL
50/50
Summit Entertainment and Mandate Pictures; Summit Entertainment
THE ARTIST
a La Petite Reine – Studio 37 – La Classe Americaine – JD Prod- France3 Cinema – Jouror Production-uFilms coproduction; The Weinstein Company
BRIDESMAIDS
Universal Pictures, Relativity Media, Apatow Productions; Universal Pictures
MIDNIGHT IN PARISA Mediapro, Versatil Cinema & Gravier Production; Sony Pictures Classics
MY WEEK WITH MARILYNThe Weinstein Company; The Weinstein Company
A good list and they are all actually comedies and/or musicals (although you could make a case against
Marilyn
but I'll go with it.) I kinda feel like
The Artist
is gonna win Best Picture which means its my
Predicted Winner.
BEST PERFORMANCE BY AN ACTRESS IN A MOTION PICTURE – COMEDY OR MUSICAL
Jodie Foster, Carnage
Charlize Theron, Young Adult
Kristen Wiig, Bridesmaids
Michelle Williams, My Week With Marilyn
Kate Winslet, Carnage
I kinda forgot that

Carnage

existed, but looks like the Globes didn't. This is Kate's first of two noms this year: one for film and one for tv. And Charlize! Happy for Kristen Wiig here. When I saw

Bridesmaids

, I laughed, of course, but I really felt for Wiig's character. It was a little more depressing than I thought it would be and I appreciated that. Too bad Michelle Williams played a real person because...

Predicted Winner:

Michelle Williams

My Week With Marilyn


BEST PERFORMANCE BY AN ACTOR IN A MOTION PICTURE – COMEDY OR MUSICAL

Jean Dujardin, The Artist
Brendan Gleeson, The Guard
Joseph Gordon-Levitt, 50/50
Ryan Gosling, Crazy Stupid Love
Owen Wilson, Midnight in Paris


Gosling's second nom of the year! He really owes this one to his abs. Of his 3 good performances this year,

Crazy

is my favorite. (I almost flipped out when I read the nominations on The Hollywood Reporter. They had him nominated here for

Drive

. Which is in no way, shape, or form a musical or comedy.) It's good to see JGL get some love. He's such a talented actor. He'll get an Oscar nom one day. But, all these fellas have the misfortune of being up against a charming actor in arguably the most loved movie of the year. I can't wait for a wacky acceptance speech with broken english!

Predicted Winner:

Jean Dujardin

The Artist

BEST PERFORMANCE BY AN ACTOR IN A SUPPORTING ROLE IN A MOTION PICTURE
Kenneth Branagh, My Week With Marilyn
Albert Brooks, Drive
Jonah Hill, Moneyball
Viggo Mortensen, A Dangerous Method
Christopher Plummer, Beginners
Supporting Actor is so bland this year. Granted I haven't seen
Moneyball
yet. (Ugh, it just did not interest me and now I have to see it) But I find it hard to believe that Jonah Hill gives an award worthy performance in it. He's just a personality and he's the same in everything. I find him kind of annoying. Viggo is a surprise here. And Viggo is always a welcome surprise. But this category belongs to Plummer who gave a really moving performance.
Predicted Winner:
Christopher Plummer
Beginners
BEST PERFORMANCE BY AN ACTRESS IN A SUPPORTING ROLE IN A MOTION PICTURE
Bérénice Bejo, The Artist
Jessica Chastain, The Help
Janet McTeer, Albert Nobbs
Octavia Spencer, The Help
Shailene Woodley, The Descendants
Why isn't Carey Mulligan getting anything?!? (Thank god, this just
happened
. Good job...Detroit.) All these nominees are so slight. I mean I enjoyed all these ladies. But couldn't we at least get a Melissa McCarthy or something.
Predicted Winner:
Octavia Spencer
The Help
BEST ANIMATED FEATURE FILM
THE ADVENTURES OF TINTIN
Paramount Pictures/Columbia Pictures/ Hemisphere Capital/Amblin Entertainment/Wingnut Films Production/ Kennedy/Marshall Production A Steven Spielberg Film; Paramount Pictures and Columbia Pictures
ARTHUR CHRISTMASColumbia Pictures & Sony Pictures Animation; Sony Pictures Releasing International
CARS 2
Walt Disney Pictures, Pixar Animation Studios; Walt Disney Pictures
PUSS IN BOOTSDreamWorks Animation; Paramount Pictures
RANGO
Paramount Pictures and Nickelodeon Movies present A Blind Wink / GK Films Production; Paramount Pictures
I have nothing to say. Animation was a little sad this year.

Predicted Winner: The Adventures of Tintin


BEST FOREIGN LANGUAGE FILM

The Flowers of War
In the Land of Blood and Honey
The Kid with a Bike
A Separation
The Skin I Live In


I'm starting to hear good things about Angie's directorial debut. You knew this was gonna happen though. The Globes love their celebs. And a Brad and Angie pair of nominations is too good to pass up. I've only seen

The Skin I Live In

and it wasn't my favorite.

Predicted Winner: A Seperation


BEST DIRECTOR – MOTION PICTURE

Woody Allen, Midnight in Paris
George Clooney, The Ides of March
Michel Hazanavicius, The Artist
Alexander Payne, The Descendants
Martin Scorsese, Hugo


The highlight of the announcement was Sofia Vergara trying to pronounce:

Hazanavicius.

Followed by a grimaced <yikes, that name would be hard to say even without my accent> face.

Trust me, it was hilarious. What's with Clooney here? They already nominated him for actor. So, he's already showing up. The main problem with

Ides

is the directing...and the predictable script.

Predicted Winner:

Martin Scorsese

Hugo




BEST ORIGINAL SCORE – MOTION PICTURE

Ludovic Bource, The Artist
Abel Korzeniowski, W.E.
Trent Reznor, Atticus Ross, The Girl with the Dragon Tattoo
Howard Shore, Hugo
John Williams, War Horse




Predicted Winner:

Trent Reznor, Atticus Ross

The Girl with the Dragon Tattoo




BEST ORIGINAL SONG – MOTION PICTURE

Hello Hello (music by Elton John, lyrics by Bernie Taupin), Gnomeo & Juliet
The Keeper (music and lyrics by Chris Cornell), Machine Gun Preacher
Lay Your Head Down (music by Brian Byrne, lyrics by Glenn Close), Albert Nobbs
The Living Proof (music by Mary J. Blige, Thomas Newman, Harvey Mason Jr., lyrics by Mary J. Blige, Harvey Mason Jr., Damon Thomas), The Help
Masterpiece (music and lyrics by Madonna, Julie Frost, Jimmy Harry), W.E.




What are these songs? I have no idea. um...

Predicted Winner:

The Living Proof

The Help




It's funny how E News and Today show were all concerned about the television categories and movies sort of got the brush off. I'm the complete opposite. Not that I don't love TV, but I just love my movies and their awards more. So here's tv:



Best TV Drama

American Horror Story
Boardwalk Empire
Boss
Game of Thrones
Homeland

Predicted Winner: Homeland




Best TV Comedy or Musical
Enlightened
Episodes
Glee
Modern Family
New Girl

Predicted Winner: Modern Family




Best Miniseries or Motion PictureCinema Verite
Downton Abbey
The Hour
Mildred Pierce
Too Big to Fail


Predicted Winner: Downton Abbey




Best Actor in a TV DramaBryan Cranston, Breaking Bad
Steve Buscemi, Boardwalk Empire
Damian Lewis, Homeland
Jeremy Irons, The Borgias
Kelsey Grammer, Boss

Predicted Winner:

Bryan Cranston

Breaking Bad




Best Actor in a TV Musical or ComedyAlec Baldwin, 30 RockDavid Duchovny, CalifornicationJohnny Galecki, The Big Bang Theory
Thomas Jane, Hung
Matt LeBlanc, Episodes

Predicted Winner:

Johnny Galecki

The Big Bang Theory




Best Actor in a Miniseries or Made-for-TV MovieHugh Bonneville, Downton Abbey
Idris Elba, Luther
William Hurt, Too Big to Fail
Bill Nighy, Page Eight
Dominic West, The Hour

Predicted Winner:

Idris Elba

Luther




Best Supporting Actor in TV Series, Miniseries, or Made-for-TV MoviePeter Dinklage, Game of ThronesPaul Giamatti, Too Big to Fail
Guy Pearce, Mildred Pierce
Tim Robbins, Cinema Verite
Eric Stonestreet, Modern Family

Predicted Winner:

Peter Dinklage

Game of Thrones




Best Actress in a TV DramaClaire Danes, HomelandMireille Enos, The KillingJulianna Margulies, The Good WifeMadeleine Stowe, RevengeCallie Thorne, Necessary Roughness


What is

Necessary Roughness

? Is that on TV?

Predicted Winner:

Claire Danes

Homeland




Best Actress in a TV Musical or ComedyLaura Dern, EnlightenedZooey Deschanel, New GirlTina Fey, 30 RockLaura Linney, The Big CAmy Poehler, Parks and Recreation

I don't care for Zooey on New Girl. Is she supposed to be mentally disabled?

Predicted Winner:

Laura Dern

Enlightened




Best Actress in a Miniseries or Made-for-TV MovieRomola Garai, The Hour
Diane Lane, Cinema Verite
Elizabeth McGovern, Downton Abbey
Emily Watson, Appropriate Adult
Kate Winslet, Mildred Pierce

Someone last night was trying to tell me Kate wasn't gonna win this. Seriously? Who will than? Diane Lane? Please...

Predicted Winner:

Kate Winslet

Mildred Pierce




Best Supporting Actress in TV Series, Miniseries, or Made-for-TV Movie

Jessica Lange, American Horror Story
Kelly Macdonald, Boardwalk Empire
Maggie Smith, Downton Abbey
Sofia Vergara, Modern Family
Evan Rachel Wood, Mildred Pierce

Oh, my god. This list is so good! I don't know who to pick.

Predicted Winner:

Jessica Lange

American Horror Story